Project Schedule
The Ministry is moving forward with engineering design work necessary to get this project construction ready.
July 2021 - Phase 2 Request for Proposals Announcement
Ontario is proceeding with Phase 2 - Highway 6 / Hanlon Expressway Midblock Interchange Proposals from the shortlisted contractors will be submitted in October 2021. View the announcement.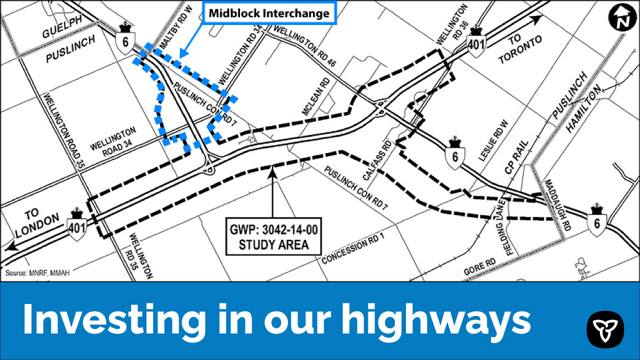 March 2021 - Budget Announcement
Ontario will proceed with the next phase by constructing a new interchange for Wellington Road 34 on Highway 6 north of Highway 401 and relocating utilities. Early works to relocate utilities are expected to begin later in 2021. View the budget.
July 2020 - Announcement
Ontario remains committed to constructing the Highway 6 and 401 project. View the announcement.
Phase 1 - Concession Road 7 Bridge Over Highway 401
The ministry has completed construction on Phase 1 of this project, which includes the replacement of a bridge over Highway 401. This was completed in 2019-2020 by Dufferin Construction.